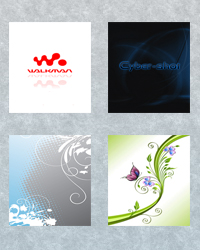 This is a wallpaper that shows different things depending upon the phone.
I need some feedback on this test file to see if works on different phones.First of all its a shake file but with a difference.This file works on cybershot,walkman and z series phones for now.As you can see from the picture above you will only see the wallpaper that belongs to your phone (ie cybershot phone you will see the cybershot wallpaper and walkman phones you will see the Walkman logo wallpaper etc).
All comments are appreciated!