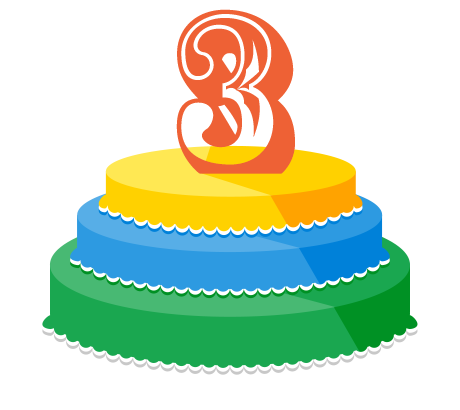 It's time to celebrate our 3rd anniversary.
This past year has been quite an interesting one, as not only did we create flash menus and themes, but we also created our first, well actually two desktop applications.
The first one we created was 'Custom Menu Creator', and this allowed anyone to create their very own Flash Menu without needing to write a single line of code. So you simply selected a few options and hit the 'Build' button and everything was done for you. This proved to be very popular with you guys so we overhauled it and released version 2, as well as a counterpart, which was the 'Rotating Logo Creator'.
The 'Rotating Logo Creator' was very similar in design to the 'Custom Menu Creator' except that it allowed you to create your very own rotating logo wallpapers, and once again everything was done for you.
Also, the Sony Ericsson released the Aino, a touch screen phone using the A2 platform, and naturally we tried to create a flash menu which would respond to touch. However, not all went to plan as it simply didn't work, we were slightly disappointed by this but at least we tried.
Now looking at head, we currently don't have any more 'creative surprises' left, but don't worry we'll think of something as the year rolls on.
Last but not least, we would like to say thank you to everyone who has continued to support us over the past few years, and especially to you guys who come onto this site and use our stuff, as it's such a pleasure to know that our content is being used by many all over the world. So once again, thank you.